Governance, Risk, Compliance, and Audit
Add real-world intelligence to your compliance projects.
Remove the complexity & throw away the spreadsheets with a simplified, automated approach.
Your Challenge: Existing GRC tools are too costly.
Your Benefits
---
Marketability
Expand into new markets by achieving compliance with key international security standards.
Competitiveness
Enhance your competitive advantage by demonstrating a commitment to privacy and security.
Resilience
Identify the actual business risks posed to you inside your unique cybersecurity environment.
Reputation
Avoid the costs, penalties & infringements that come from data breaches & other incidents.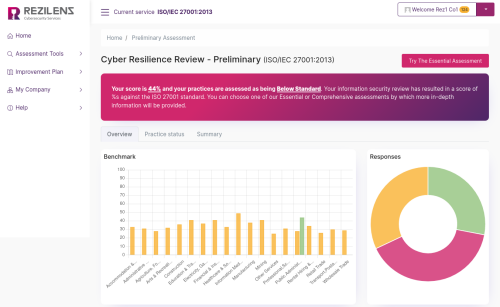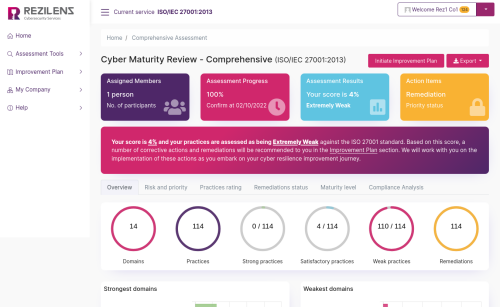 Key Features
---
Agile PM with Kanban Dashboard
Utilising the same Kanban approach that you're familiar with, built on Agile Methodology.
Criticality Analysis & Prioritising
Automatic categorisation of tasks and remediations based on criticality and importance.
Compliance Assessment
Assess your organisation's maturity across multiple different frameworks and domains.
Business Intelligence and Dashboards
Utilise our dashboards to enjoy an organisation-wide
Remediations and bespoke Roadmap Module
Benefit from customised recommendations and remediations, based on your unique security posture.
Improvement Tracking Module
Work with other members of your team to build your resilience, and watch your maturity develop.
Document and Evidence Library
A convenient location for all documents and evidence uploaded as part of your assessment.
Task Allocation
Easy task allocation, team tracking and project management helping your organisation to stay on track.
Task Calendar and Notification
Receiver alerts and reminders for upcoming and overdue tasks.
Jira Integration
Port all of your tasks from the Rezilens platform into Jira, for easy access and management.
Single Sign On (SSO)
Utilise novel authentication methods like SSO, ensuring you and your team are secure.
Role-Based Access Management
Determine each employee or team member's access level depending on seniority or clearance level.
Rezilens Concierge
Our team is on hand to provide assistance to your organisation as you progress through your assessment.
Policy and Controls Library
A set of policies and controls customised to your compliance requirements.
Risk Management Module
Benefit from a high-level overview of risks relating to your organisation.
How the Rezilens GRC platform works
---
1
Sign up and create an account for your organisation or business through clicking on Get Started!
2
Find the framework which you require to conduct an assessment and manage your comply.
3
Activate the selected standard or framework through either purchasing online or contacting us.
4
Manage the process to establish a roadmap, then engage your team for tracking improvement.